Sunrise Service

Leave Comment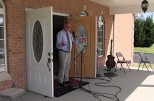 Easter Sunday April 12, 2020 at 6:30 A.M. We will have a sunrise service in our Church parking lot with singing and a message transmitted from our Church front porch on radio 88.1 FM.
In accordance with social distancing, stay in your automobile, come worship with us celebrating the Resurrection of our Lord Jesus Christ.
We will also have another service at 11:00 AM in our Church parking lot using the same guidelines as listed above.
Visitors are welcome!
Fellowship Christian Church
746 Tazewell Pike